Pamela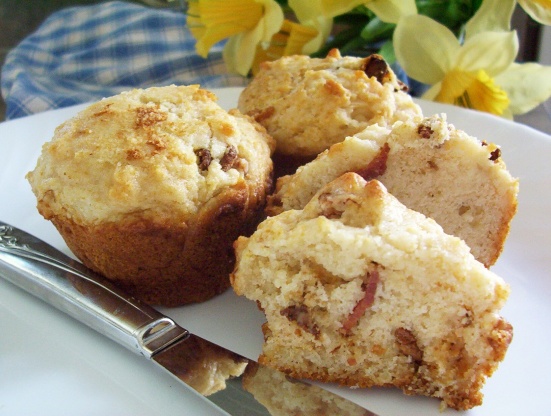 A great grab'n'go breakfast muffin recipe born from the happy accident of getting maple syrup on your bacon after piling your brunch plate a little too full! (And yes, I'm speaking from experience!!) I often add more bacon than the recipe calls for and you can use whatever pancake syrup you like or have on hand.

Top Review by JillAZ
These are really good! The maple and bacon flavor are great together. I used real maple syrup and these are just yummy! They remind me of the pancake part of a McGriddle sandwich at McDonalds - only better because they are homemade. Thanks for sharing!
In a large bowl, combine flour, bacon, baking powder and salt.
In another bowl, whisk the remaining ingredients together.
Stir into dry ingredients just until moistened.
Fill greased or paper-lined muffin cups two-thirds full. Bake at 400F for 20-25 minutes or until a toothpick comes out clean.
Cool for 5 minutes before removing from pan to a wire rack.