Bobbiann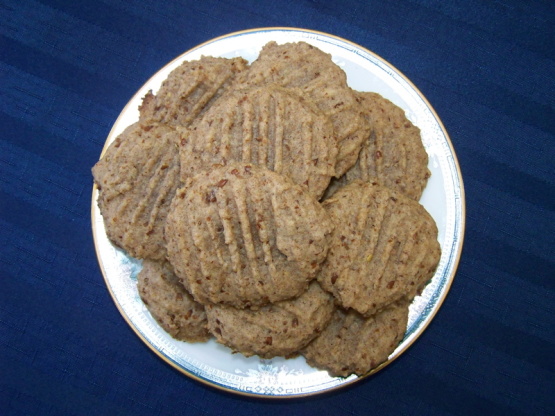 This recipe comes from the blog Domestic Affair, and is available in original form at http://domesticaffair.blogspot.com/2005/04/simply-sweet.html. These are free of wheat and refined sugar, and are similar to shortbread in consistency.

These are great! So tasty! I halved the recipe and still got a little over a dozen cookies, so you must have been making some pretty big ones. Anyway, I replaced the maple syrup with butter flavoured E. D. Smith's because that's all I had, and these were fantastic. I'll make these easy treats again sometime!
Preheat oven to 350 degrees F. In a large bowl, combine flour, flax seeds, cinnamon and salt. Pour in syrup and oil and mix just until all the flour's been absorbed.
Allow the dough to sit for 5-10 minutes before rolling into walnut-sized balls (or slightly larger) and placing them on a lightly oiled cookie sheet.
Press down on each ball gently with you index and middle finger - they'll flatten and you'll make a nice wavy impression in the cookie.
Slide in the oven and bake for 13 minutes. Allow to cool on a rack, or eat 'em warm with a tall glass of non-dairy milk.