Manuel's Crock Pot Pork Chops and Potatoes in Mustard Sauce
MsSally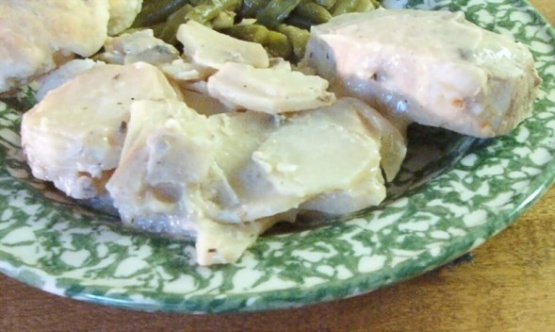 Let your crock pot do the work...come home to a tasty, decadent meal! This one just had to be shared...ENJOY!!!!

Amazingly good !! had picked up 2 THICK chops, shown for stuffing, but I don't do that. Wanted to be sure they were moist and tender. Cut each in thirds, and followed the recipe as listed. They were indeed tender -- and delicious ! Had used tiny red potatoes cut in half. Will be saving this for another crock pot day. Thanks for posting !
In skillet, brown pork chops on both sides in hot oil.
Drain fat.
In your crock pot, mix soup, chicken broth, mustard, thyme, garlic, and pepper.
Add potatoes and onion, stirring to coat.
Place browned pork chops on tops of potato mixture.
Cover and cook on Low for 8 to 10 hours or on High 4 to 5 hours.
Serve with salad or side dish of your choice.( I place some of the sauce on top of the pork chops when I served these).