Parsley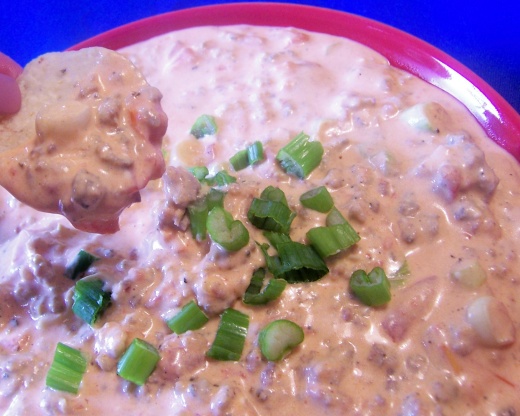 Guys don't wanna snack on raw veggies and hummus. They want fried chips dipped in hot meat and cheese! Serve the guys this dip with corn tortilla chips, potato chips or crackers, but for heaven's sake, NOT raw veggies!

This was so awesome. The only thing different I did was add New Mexico green chiles to the sausage, and green onions mixture. After it was heated through on the stove I baked it in the oven at 400 for about 10 minutes. IT was to die for!!!!
In a saucepan, brown and crumble sausage with the green onion until sausage is no longer pink. Drain.
Return sausage mixture to saucepan. Add remaining ingredients. Cook and stir over med-low heat until heated through and cheeses melted.
Serve hot with their favorite dippers. Or just give them each a spoon. ;).