Mankomo's Farmhouse Bread
Annacia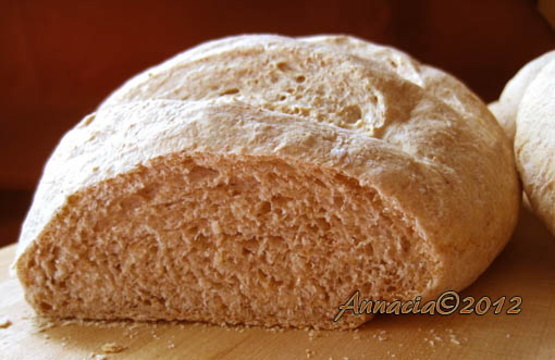 This bread is what we in South Africa would term plaasbrood - farm bread. You know the one, those loaves made by generations of farmer's wives where no written recipe really exists. No bread machine needed for this, kneading takes all of 10 minutes with two rising periods. Delicious. The recipe appears in Quiet Life, a Buddhist recipe book.

This is a lovely bread. My single problem was that I couldn't get it to brown so I would use an egg wash next time for some exterior color. That said this makes a *lot* of dough and I got a large loaf plus 8 big burger buns out of this recipe. I used the Kitchen Aid mixer and it was a full batch even for that big machine. I'll be freezing half of the loaf and six of the buns so we are nicely stocked for awhile. It tastes very good and makes a soft bread that I added 2 Tbsp of the optional butter to.
Preheat oven to 200C / 392°F.
Mix all the dry ingredients and then add the butter if using.
Gradually mix in the water and knead until you have an elastic dough which comes away from the sides of the bowl. If kneading by hand, do so for 10 minutes, 3 minutes with a food mixer.
Allow to rise in a warm place, covering the bowl with clingwrap until the dough has doubled in size.
Knead again lightly and place in a bread tin (at this point you can divide the dough if it is too much for one tin).
Leave to rise again until doubled.
Bake at 200C/392F for 15 minutes, then turn the oven down to 180C/356F and bake for a further 45 minutes or so, or until the loaves sound hollow when tipped out and knocked with your knuckles.
You can use a variety of different flours in this recipe, as long as you end up with 1kg of flour in total.