Manicotti W/Turkey, Cremini Mushrooms & Ricotta Cheese
TheShields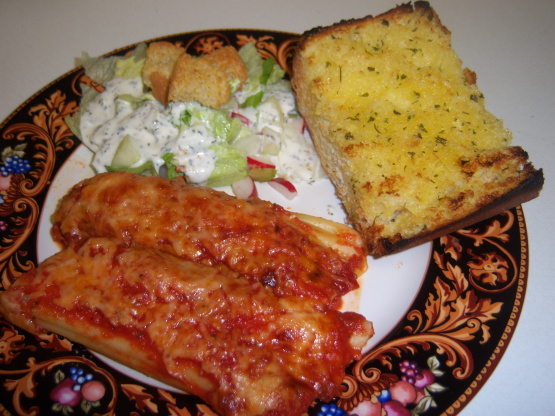 This is our favorite Manicotti recipe. It has evolved over the years from trial and error. We like the unique flavor from the ground turkey. I like to make it for my father when he comes to town; it's one of his favorites, served with a green salad and garlic bread. I use a Ziploc bag to pipe the filling into the manicotti shells, it makes it super simple and they come out looking very nice. I am posting 'step by step' photos. Hopefully they will make the recipe seem less intimidating for some. It really is a simple, yet impressive dish.

Top Review by GaylaV
This recipe didn't work so much for us. First my comments on what we did like best. My husband and I both loved the fennel seeds. I have never used the seeds before and I will be using them again. Such a great flavour that hits the palate. Lovely. The mushrooms are also a great addition. I wasn't able to find any ground turkey so went with ground chicken and it really didn't work well for us. I am wondering if the turkey would be much different. I have used ground chicken before and I think I should have used some salt and pepper with it as it browned. It just didn't seem to pick up the seasoning when added later. I think what I didn't like most was using the prepared tomato sauce. I think it overwhelmed the dish. I had thought about making my own but decided to stay true to the recipe. If I try this again with ground turkey I will make my own tomato sauce. Lots of potential. Thank you for getting me started on fennel seeds and thanks for sharing your recipes. Made for PAC.
Cook the manicotti shells to al dente, approximately 7 minutes depending on the brand. Drain and set aside. (I like to line the plastic containers the shells come in with tinfoil and let them cool there until ready to use).
Heat a large skillet over medium high heat. Add the olive oil, then add the turkey and fennel seed. Cook until the turkey is browned, breaking it up as it cooks.
Add the onions and cook until they start to turn translucent, about 2 minutes. Add the garlic and cook for another minute. Add the mushrooms and continue to cook for about 2 minutes, then add the roasted red peppers and finish off by cooking for about 2 more minutes. Remove from the heat.
Stir in the ricotta cheese and salt and pepper to taste. Spoon the turkey and cheese mixture into a large Ziploc bag.
Preheat oven to 350 and spray an 8x13 casserole dish with non-stick spray.
Snip one corner off of the Ziploc bag and gently fill the manicotti shells with the mixture, placing them in the casserole dish as you go. If a shell splits, just put that side down in the dish.
Pour the spaghetti sauce over the top of the manicotti, spread evenly. Top with the parmesan cheese and bake for 25-30 minutes.