ImPat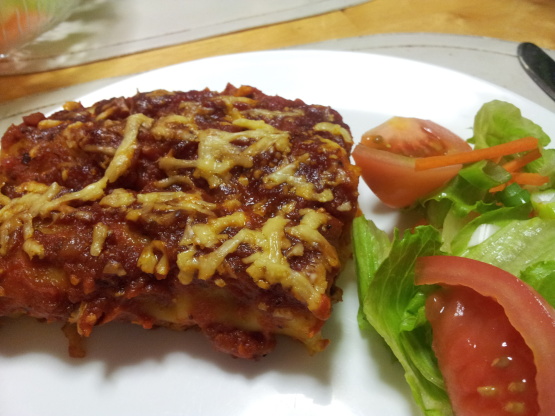 I think the recipe came from the back of the box of manicotti. Have been making this recipe for years. I like to add some herbs to the tomato sauce just to spice it up a little. you can crumble the bread in a food processor. just pulse a few times.
Top Review by Bob J.
I've been looking for this recipe for awhile now. I made it back in the early 80's with my wife before we were married. I think it's off a box of Creamette noodles. I have had lots of manicotti before and since, but this was the recipe that remained in my memory for all these years! Thanks for posting... I plan on making this very soon. (Page has been bookmarked)
Cook manicotti until tender. While manicotti is cooking, brown beef in oil.
Combine bread & milk in a bowl & let stand for 2 minutes then add the the browned beef and remaining ingredients to bowl except for the tomato sauce and parmesan cheese.
Fill rinsed and cooled manicotti with meat mixture.
Spoon a bit of sauce over the bottom of a large pan and arrange filled manicotti in the pan.
Pour remaining sauce over top of manicotti and top with parmesan cheese.
Cover pan with foil and bake in a 350°F oven for 45 minutes.
Serve with a nice salad and garlic bread if you wish.