Rita1652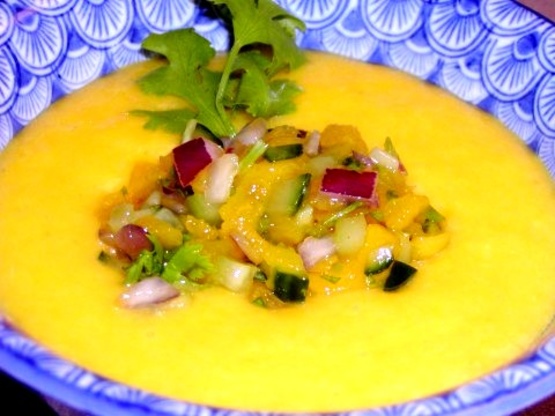 A friend of mine made this for a dinner party. It is a very refreshing chilled soup that is equally good with fresh or believe it or not canned mango. The advantage of the canned mango is you don't have to peel it nor cut it off the seed. The recipe comes from Royal Caribbean International cookbook.

I could eat the whole soup! But won`t! Very very very good, cooling, refreshing. I use lime flavored setzer n place of the ginger ale, skipped the sugar, used 5 mangos, and 1/2 of a burpless cucumber unpeeled. Added fresh grated ginger! Thanks for posting this delish soup!
In a blender or food processor, combine 4 cups of the mango with 1 cup water, ginger ale, vinegar, oil and sugar.
Puree until smooth.
Season with salt and pepper, pour into a nonreactive bowl, cover and refrigerate until cold, about 4 hours.
In another nonreactive bowl, combine the other 4 cups mango, cucmber, red onion and 1/2 cup chopped cilantro.
Cover and refrigerate until cold.
To serve, divide the cucumber mixture evenly among chilled soup bowls and ladle the soup over the mixture.
Sprinkle with remaining cilantro.
Serve immediately.
The prep time assumes that you are using canned mango.