This comes from Splenda. It makes a very good light smoothie.
1 cup ice cube
1 large mango, ripe peeled and chopped
1⁄4 cup Splenda granular, artificial sweetener
1 cup nonfat yogurt, plain
1⁄2 cup mango nectar or 1⁄2 cup orange juice
1⁄2 teaspoon almond extract
1 pinch salt
Directions
Combine all ingredients in a blender in the order listed.
Process mixture until smooth stopping to scrape down sides a few times.
Reviews
Most Helpful
It was delicious! My 1yr old twin girls loved it! I did omit the salt, sweetner and almond extract and added one banana and one nectarine. I also used french vanilla yogurt.
Delicious! I had a really sweet mango so I did not add any sweetener or sugar. I also did not add salt. This was a tropical delight and great first thing in the morning! Made for 1-2-3 Hit Wonders Tag Game.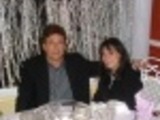 This is a great smoothie. I had frozen mango so I didn't use ice cubes. It was pretty sweet but we all drank it right up this morning.