Debbwl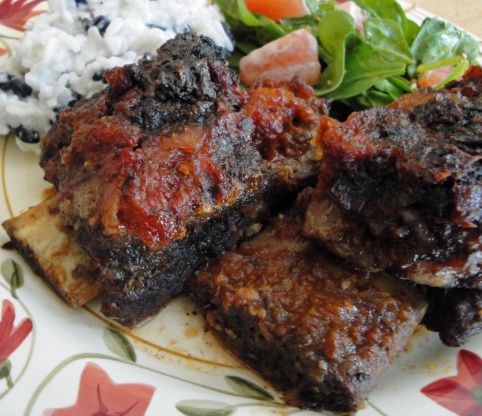 These ribs are falling off the bone tender. The combination of fruit and fruit juice coupled with exciting spices lends your taste buds to a true taste delight. This dish can be served as main course with rice or makes an excellent appetizer. Please note: Make sure and remove the pepper from the mango sauce before other ingredients are added to the blender.

Top Review by Debbwl
Very pleasing weather made with beef or pork. We thought the rub combine with the mango cooking sauce gave these tender morsels just the right spice / sweet combo. I could not get but 2.5 pounds of short ribs and had gust coming so used 2.5 pounds of country pork ribs to make the required amount and we thought both the beef and pork were equally tasty. Thanks for the post.
In a small bowl, prepare the dry rub by thoroughly mixing all ingredients together.
Wash the ribs under running water, pat dry, rub the lime juice over ribs; generously rub the dry rub into meat. Cover and refrigerate, allowing ribs to marinade for 4 to 6 hours.
Prepare the mango sauce by placing ingredients in a heavy saucepan, make a slit in the pepper with a sharp knife before adding to the pot; bring ingredients to a boil, reduce heat and simmer until mixture is reduced and thick; approximately 20 minutes. Remove the pepper, puree remaining ingredients in blender, stir the lime zest into puree. Place in container and refrigerate until you are ready to prepare the ribs.
Remove meat from refrigerator 30 minutes before cooking time and allow it to stand at room temperature. Preheat broiler on high, spray a broiling pan with cooking spray, place the ribs on prepared pan, broil until meat browns, and turn as needed in order for all sides to brown evenly.
Remove meat from oven, place in heavy pot, pour mango sauce over meat, cover and cook at 300 degrees for 2 to 2-1/2 hours or until meat is tender. Several times during the cooking process, skim fat from broth.
Cook the rice as per package directions, remove meat from sauce, skim additional fat if needed, pour sauce into small bowl and serve as a dipping sauce for the ribs or if serving as a main course, place ribs on top of cooked rice and spoon the sauce over. Enjoy!