This recipe was 'napped from www.wholefoodsmarket.com then tweaked a bit. The original recipe called for R.W. Knudsen Mango Fandango Spritzer, rather than just club soda.
1 1⁄2 cups mangoes (fresh or frozen)
1 cup pineapple juice
1⁄2 cup ice, crushed (optional)
1 cup club soda
Directions
Put 1st four ingredients in blender, & blend away!
Gently stir in chilled spritzer, pour into glasses & enjoy!
Most Helpful
deeeeelicious! made this with fresh mango, a little frozen raspberry, lemon juice (fresh out of limes!), and it's just wonderful! just sweet enough to still be refreshing! the club soda is perfect. and mine is a lovely shade of coral. thanks!!

Lovely and very refreshing tastes. Thanks for posting this great recipe! We all love mangoes so this was a natural for us. I used Key lime juice. Cannot wait to play around with different additions to this.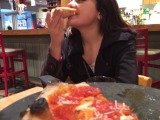 Yummy! I made exactly as directed except that I used bottled lime juice but didn't use as much as it said that 1 lime would be equal to. When it comes to limes my husband and I usually agree that less is more. This came together very quickly and was a nice beverage to sip on while we watched a movie tonight. (Elf...gotta love it! lol) Thanks so much for posting Syd!