This recipe is sooo easy to make and tastes fresh, sweet and summery. Its the perfect quick ice-cream fix that will make you feel energised and happy. Perfect if youre feeling indulgent, but dont want to break your diet. Note please: 4 hours of freezing time are not included in prep time.
Directions
Peel the mango. Cut the flesh from the stone and dice it. Place in a zip-lock bag, close it (be careful to keep the air out) and freeze for at least 4 hours.
Take the bag out of the freezer and allow to thaw for about 20 minutes at room temperature.
Put slightly thawed mango pieces into a tall bowl (or the bowl of your blender), add powdered sugar (if using) and puree the mango into a creamy sorbet using a hand-held blender (or simply blend in your blender).
Eat right away and enjoy!
Reviews
Most Helpful
This is delightful! I had a very ripe, very sweet mango on hand, so skipped the powdered sugar this time. This was a great way to serve mango, and it certainly fulfilled the desire for a creamy frozen dessert. Thanks for sharing! Veggie Swap 46

So easy and so very good! I did add just a little powdered sugar and about 1/8 cup orange juice so the blender would work better. Lovely!

What a treat! I almost felt guilty eating this sweet treat, but no need because it was healthy! I skipped the powdered sugar and thought it was sweet enough without. Yummy, easy, healthy. Can't beat that! Thanks for posting. :)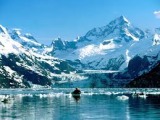 Summer Central