Mango Sherbet (Helado De Mango)
mianbao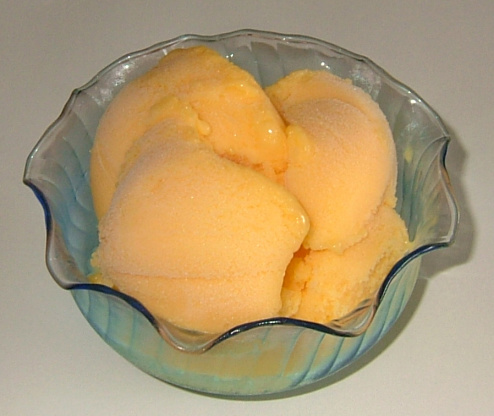 This is posted for the World Tour 2005 RecipeZaar event. I haven't had time to try it yet, but - YUM! The source is the Better Homes and Gardens Mexican Cookbook.

Wonderful! I was able to get some ripe Mexican apple mangoes, and this was the perfect recipe for them. I used dehydrated egg white powder instead of the 2 egg whites, simply because I didn't want to have 2 egg yolks leftover. For each egg white, I used 2 teaspoons egg white powder and 2 tablespoons warm water, then whipped as usual. It didn't look like the powder would dissolve at first, but it did while I was whipping it. Then, because I'm lazy, I put the mixture into my ice cream freezer and froze it there. This is just lovely as it is, but I seem to remember once having some mango ice cream with just a hint of honey. I think next time I might add about 2 teaspoons honey and see if I like it even better. Thank you very much for sharing this beautiful recipe with us. I have also noted another reviewer's comment about using different kinds of fruit. I will also try that.
Combine water, 1/2 cup sugar, and salt in saucepan. Cook 5 minutes, and cool.
Combine mangoes and cream in blender container. Blend til smooth. (Or, mash mangoes with a fork and add cream stirring to incorporate.).
Stir in cooled syrup and lemon juice. Divide and freeze mixture in two freezer containers until partially frozen (you can use one container, but it will take longer).
Meanwhile chill a mixer bowl. In a separate bowl, beat egg whites to the soft peak stage. Gradually add 1/4 cup sugar to the egg whites, and continue beating until the peaks are stiff.
Add contents of freezer containers to the chilled bowl, and break into chunks. Beat with a mixer until smooth. Fold in beaten egg whites. Return to the freezer containers, and freeze until firm.