CoCaShe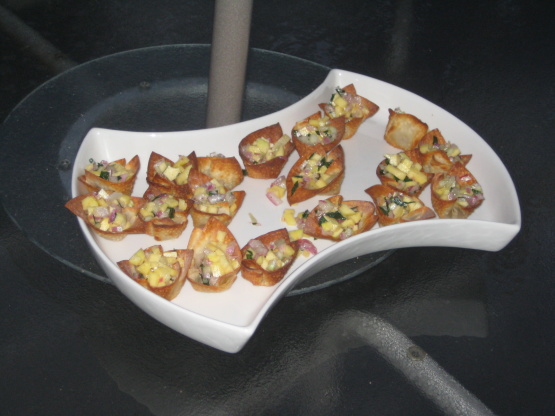 This recipe is from Epicurious. We loved it. It is a healthy appetiser and delicious. I also have made it with a tomato salsa and guacamole.

I was looking for an easy quick appetizer for ladies nite out at a friends house. We were having a Julia Child's recipe and watching the movie Julie & Julia. So I new it needed to be pretty and appetizing! This recipe did that. I can't eat cucumbers so used my red and green bells from my summer garden in the salsa instead. It was a neat idea that all the ladies loved. Thanks!
Coat mini-muffin pans with cooking spray and line the molds with wonton sheets.
Bake at 350°F for 9 to 12 minutes or until golden brown. Cool.
Combine remaining ingredients plus salt and pepper to taste.
Fill each wonton with salsa and serve.