Natpaget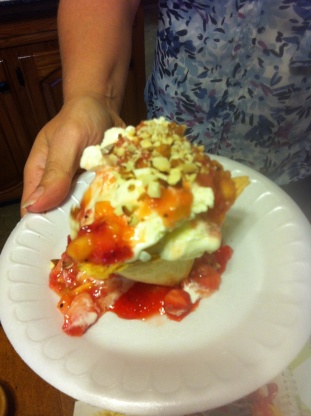 I started making these after hosting a Pampered Chef show. My husband loves them and I often make them when entertaining as well.
To make shells:Preheat oven to 350.Trim Tortillas to make triangles and cute a 1-inch slit in each side of triangle. Combine sugar and cinnamon, mix well.Brush tortillas with melted butter, sprinkle with cinnamon-sugar mixture.Press into Muffin Pan.Bake 18-20 minutes. If you don't want to go to the trouble of making "bowls" just make triangles or strips to sprinkle on top of your ice cream.
To make Mango Salsa:Combine strawberries, mango, kiwi, lime zest, and lime juice and stir gently.
To Finish: For each sundae place 2 TBSP of strawberry ice cream topping on a small plate.Place one tortilla shell "bowl" onto sauce.Place one scoop of ice cream into shell.Top with fruit salsa and sprinkle with almonds.