Mango Salsa Chicken Stir-Fry & Asparagus
wjorma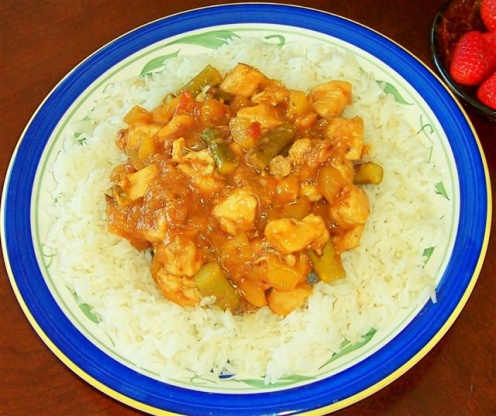 One of our favorite meals because we can substitute the 1 cup vegetables to what is in season. Also the salsa can be hotter if desired. Very good the next day too.

I enjoyed the difference the mango added to this dish. For my personal preference, I would add only 1 cup of mango and increase the veggies by a cup. I would have liked the mango to be more of a back ground flavor rather than the predominate flavor.
To make the salsa combine:.
mango,salsa,peach nectar and soy sauce.
and cook on simmer for 15 minutes. Set aside.
Cube the chicken and pat dry. Into a plastic bag place the flour,salt & pepper. Add the chicken and shake to coat well.
Into a large fry pan,place the oil and heat to medium. Stir fry the chicken in the oil for 5-8 minutes or until the pink is gone. Add the reserved salsa mixture and the asparagus,cover and cook on low heat for 15 minutes.
Serve over rice. Serves 4.