Mango Salad With Grilled Shrimp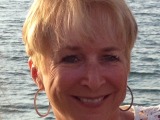 This is a refreshing summery salad bursting with flavor that combines lime, mint and cilantro dressing with mango, peppers and grilled shrimp.
2 tablespoons dark brown sugar
2 tablespoons fresh lime juice
1 red chili pepper (about 4 inches long, thinly sliced, including seeds)
1 shallot, thinly sliced
1⁄4 cup fresh cilantro (chopped)
2 tablespoons of fresh mint (chopped)
2 mangoes, pitted, peeled & thinly sliced (firm-ripe)
1 1⁄4 lbs jumbo shrimp, shelled, tail-on, deveined
2 tablespoons vegetable oil
1 jalapeno chile, minced, including seeds (fresh)
2 teaspoons ground cumin
1⁄2 teaspoon salt
Directions
Make mango salad: Whisk together brown sugar and lime juice in a large bowl util sugar is dissolved, then whisk in red chile, shallot, cilantro, and mint. Add mangoes, tossing gently.
Grill shrimp: beginning at thick end, insert a skewer lengthwise through each shrimp to straighten. Transfer to a tray. Prepare grill. Whisk together oil, jalapeno, cumin and salt, then brush on skewered shrimp until well coated. Grill the shrimp, turning occasionally, until lightly charred and just cooked through, about 4 minutes.
Toss mango salad again and divide among 4 plates. Arrange 4 shrimp on top of each serving.
Makes 4 first course servings or two main course servings.
Most Helpful
Absolutely delicious! What a great blend of flavors. We served this recipe on a bed of spring greens as a main course by increasing the serving size and it was a real treat. Thanks!

Yet another fantastic meal from Epi Curious's public cookbook. Words can hardly describe the taste from this combination of fresh fruits and seafood! It was a Pacific Island Luau in our mouths! My pictures didn't turn out as pretty per se as AmandaInOz's because I let my mangos get a little ripe... The only addition I made was adding some cut strawberries because my little girl gave me the "Dad!!! I just picked them!!!" look. And it turned out to be a tasty addition. I ended up using this as a main course served with a spinach salad w/ feta, basil strawberries and red onion (recipe #249070 #249070). All in all I wouldn't change a thing with this recipe! And we're definitely having it again... Soon! Made for Sping PAC 2010.

Excellent little starter! The mango salad was so refreshing. It was fantastic both on its own and paired with the shrimp. The flavours blended beautifully. Yum! Thanks Epi Curious! Made for PAC Fall 2008.