K9 Owned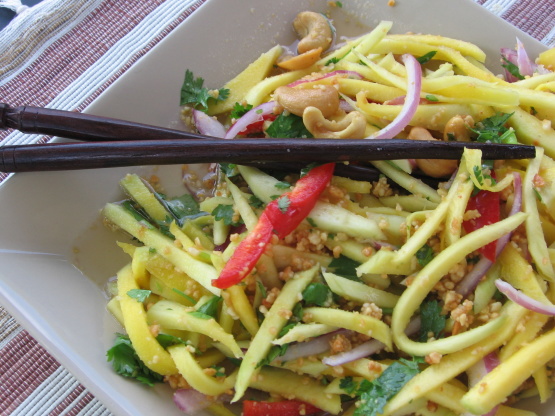 This recipe is from the Thai House restaurants in California. The mango gives it a fresh flavor.

This was very authentic. It took me a while to find a green mango salad recipe WITHOUT bean sprouts, and this did the trick. I didn't use chicken in this recipe, as it was a side dish to the Thai Chicken Thighs. The only method change I did was I sprinkled the toasted peanuts on top once served instead of mixing it in with the salad during the preparation. This kept the peanuts nice and crunchy once served. This is definitely a keeper recipe. Can't get any better in a restaurant.
Combine ingredients and sprinkle with lime juice. You will need a smaller amount of lime juice for a green mango and more lime juice if mango is ripe.