Food.com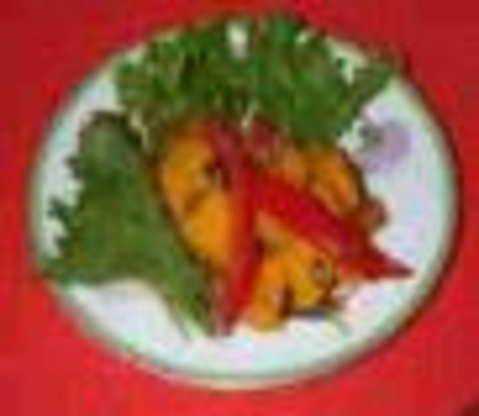 Source: Chatelaine Magazine. Once I could not get fresh mint so I substituted mint sauce for the vinegar, sugar and mint and it worked very well

Delicious. Couldn't get a hold of chili flakes and had to use powder. That worked fine. Also, I know many people use under ripe mangos for this and it is really good as well.
Squeeze juice from lime and place 2 tablespoons (30 mL) in a large bowl.
Stir in balsamic vinegar, sugar and chili flakes until sugar is dissolved.
Peel mangoes, slice pulp from pit, then cut into julienne strips.
Slice peppers into similar size julienne strips.
Combine mangoes and peppers in a bowl.
Chop onion fine and add along with mint and coriander.
Taste and add more lime juice or a little salt, if you like.
Salad is best if it stands at room temperature for 1 hour.
Salad can be refrigerated for up to 1 day but mint will darken, so add it just before serving.