Nif_H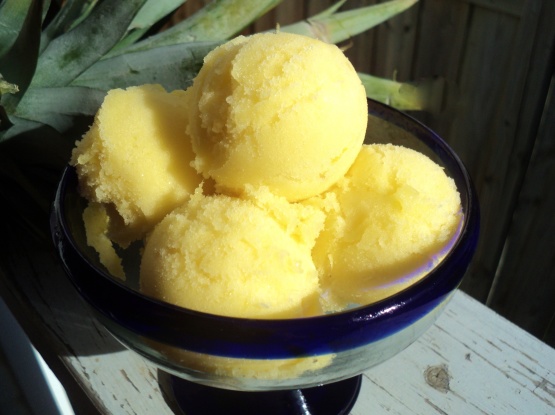 A refreshing, vegan dessert that's perfect paired with South American or Mexican dishes. Or, blend it with tequila for a perfect frosted mango-pineapple margarita.

Top Review by Nif_H
The fresh pineapple and mango were SO good in this! There is no fat in sorbet but quite a bit of sugar, which I would cut back on next time. I made this with my Cuisinart Ice Cream Maker attachment, mixing it for 25 minutes. I spread it out in a shallow dish and put in the freezer for about 2 hours. Because sorbet is not creamy, it kind of flaked when I scooped it out. I just had to pack it down a bit in the scoop and it turned out great! Made for ZWT8. Thanks ElleFirebrand! :)
Peel the mango and cut the flesh away from the pit. Cut the flesh into chunks and put them in a blender with the chopped pineapple, sugar, water, lime juice, rum and salt. Squeeze the mango pit hard over the blender to extract as much of the pulp and juice as possible. Puree the mixture until smooth. Taste, then add more lime juice or rum if desired.
Chill the mixture thoroughly.
Freeze it in your ice cream maker according to manufacturer's instructions.