Mango Pineapple Lime Cheesecake
MomLuvs6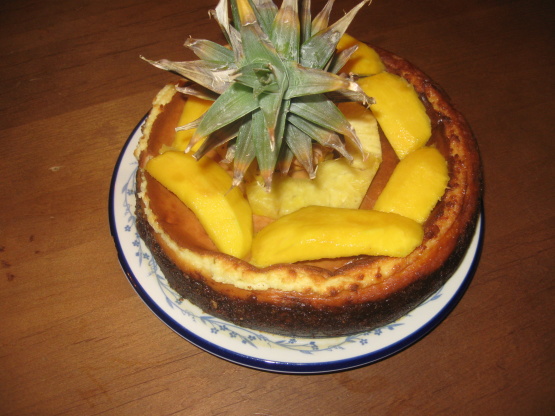 I had forgotten that I had this recipe tucked away in some recipe file on my computer, so I figured I'd post it here so I wouldn't forget about it again. I believe this is from Bon Appétit.
CRUST

314.66

ml gingersnap cookies, finely crushed

99.22

g jarroasted macadamia nuts

59.14

ml brown sugar, firmly packed

22.18

ml crystallized ginger, finely chopped

29.58

ml unsalted butter, melted

FILLING

4

(907.18 g) package cream cheese

354.88

ml sugar

14.79

ml lime peel, minced

158.51

ml sour cream

88.74

ml fresh-squeezed lime juice

4

large eggs

1

mango, peeled, pitted and sliced

2

kiwi fruits, peeled and sliced

1

small fresh pineapple, peeled, cored, quartered and thinly sliced (reserve pineapple leaves for garnish in center of cheesecake)
CRUST:.
Preheat oven to 350ºF. Generously butter a 9" springform pan. Finely grind the gingersnaps, macadamia nuts, brown sugar and crystallized ginger in a food processor. Add butter and process until well-mixed. Press mixture into prepared pan, going 1 3/4 inches up the sides. Bake in preheated oven for about 8 minutes, or until crust is set. Transfer to a wire rack to cool.
FILLING:.
In a large bowl, beat cream cheese, sugar and minced lime peel with a mixer until light and fluffy. Beat in sour cream and lime juice. Add eggs one at a time, beating just until blended. Pour filling into prepared crust. Bake at 350ºF for about 80 minutes, or until edges are firm but the center 2 inches of cheesecake are still slightly jiggly.
Transfer baked cheesecake to a wire rack to cool for 10 minutes. Loosen sides of cheesecake with a small sharp knife and remove springform ring. Chill cheesecake overnight. After chilling, arrange mango slices around top outer edge of cake. Arrange kiwi in a ring just inside the ring of mango. Arrange the sliced pineapple within the ring of kiwi, then place the pineapple leaves in the center of the cheesecake.