KristinV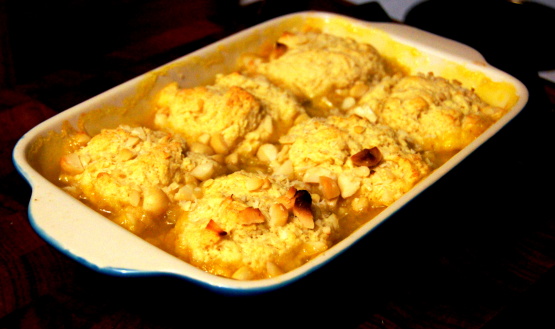 Canned or fresh mangos can be used in this quick tropical dessert but, fresh mangos (right off the tree in Costa Rica) are better. Best served warm topped with vanilla ice cream. If using canned; substitute 2 (14 oz.) canned mangos for fresh). Mangos, Pineapples and Macadamia nuts are widely grown in Costa Rica. Macadamia nuts form the staple diet of the Hyacinth Macaw ,Native to South America, these large parrots are one of the few animals, humans aside, which are capable of cracking and shelling the nut. Macadamia nuts form the staple diet of the Hyacinth Macaw in captivity.

Delicious !! There's no other word for this! Made with fresh mangos and thoroughly enjoyed without the ice cream as I think it would have been too much for my tastebuds to handle LOL. I did add 2 tablespoons of flax meal to my flour mixture and doubled up on the macadamia nuts (just cuz I love them). I also used gluten free flour and almond milk as I had no regular milk. DH was extrememly pleased with the result - mangos are his favorite and this had a definite tropical flavor to it. Great dessert BakinBaby. Thanks for posting. Made for ZWT7 Central/South America and the HOT PINK LADIES.
Simmer pineapple juice, 1/4 cup sugar & cornstarch for a few minutes, just until it begins to thicken, stir in peeled, sliced mangos, cook until hot; set aside, stir in 1 teaspoons vanilla.
Combine flour,sugar,baking powder and salt, then cut in 1/4cup butter until mixture resembles coarse crumbs.
In another bowl combine; milk and slightly beten egg; add all at once to dry ingredients stirring just to moisten.
Pour mango mixture into a buttered 8" square baking dish, immediately spoon on biscuit topper in 6 mounds; sprinkle with macadamia nuts.
Bake at 400 for 20-25 minutes.
Serve with vanilla ice cream.