RonaNZ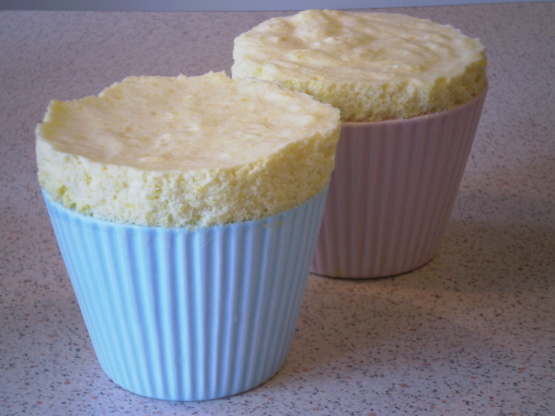 this is a great recipie to eat as a dessert in the summer during a BBQ !!

Top Review by RonaNZ
I was looking for something to put in my new little cupcake dishes and I had a very ripe mango to use up. This recipe was just the ticket. I put bands of waxed paper around the dish and overfilled the dish. I think these little souffles look very cute. I used lime instead of lemon and included the juice as well. The flavour was just right, not too sweet, not to tart but just right. It made 4 cups of mixture and my dishes hold 1 cup so it made three servings by the time I overfilled the dish. Thank you.
Sprinkle gelatine over hot water in a small bowl.
Stir to dissolve.
Cool for 10 minutes.
Peel mango.
Slice the flesh away from the large flat stone.
Reserve a few thin slices for decoration.
Puree the remaining mango in a blender or food processor with the castor sugar& lemon rind.
Whisk cream until it is thick.
Pour in the mango mixture& fold through until evenly blended.
Pour in the cooled gelatine.
Stir well.
Whisk egg whites until stiff.
Fold gently through the mango mixture until completely combined.
Transfer to serving glasses.
Leave to set in the fridge for 1-2 hours.
Decorate with the sliced mango and fresh flowers, if desired.
Serve and enjoy!