Mango, Melon and Chicken Salad (Low Sodium)
jenne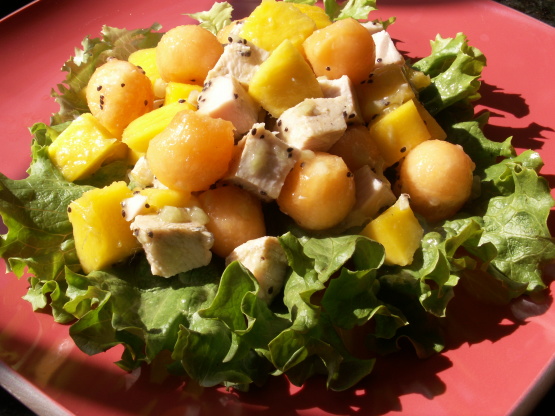 This is yet another low sodium recipe from The No Salt Cookbook. Super yummy and perfect for the summer months when the melons are sweet and juicy! This is a great salad for a bridal shower, baby shower or even a ladies luncheon. Their original recipe calls for 1 tsp sesame oil an 1 tsp olive oil, but I find that the sesame oil overpowers all the flavors.
Poach the chicken breasts in water for 20-30 minutes until cooked through. Let them cool and then cut them into bite-sized pieces.
To prepare the vinaigrette, place the roughly chopped mango into a blender and blend until smooth. Then add the vinegar, oils and wine; blend until incorporated. Taste and add a tad of honey to sweeten if you like. Place in refrigerator to chill.
Toss together the chicken, diced mango and melon balls (you can cut each melon ball in half if you like).
When dressing is chilled, pour it over the salad and toss. Garnish each serving with a leaf of radicchio.