dawn2701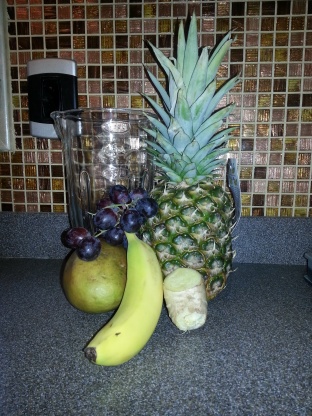 You could make this delicious smoothie all the more healthy by adding either protein powder, phyllium seeds or ground flax. The ginger is a must as it gives this smoothie a wonder zing. Mango, bananas and ginger are all excellent ingredients for help in indigestion. The drink can be cut in half quite successfully

I found a very similar recipe in "The Ultimate Smoothie Book". The recipe was 3/4 c orange or pineapple juice, 1-in chunk gingerroot. 1 mango, 1 banana, and 6 icecubes. We juiced 2 oranges and the gingerroot and froze those into icecubes the night before. It tasted like something from jamba juice or orange julius. Healthy and refreshing! Our version only has 165 calories and 41 g carbs. I might try this with frozen grapes next time since I keep those handy already frozen instead of waiting for orange juice to freeze.
1⁄2 cup orange juice

1

mango, peeled, pitted and chopped

1

banana, peeled, chopped and frozen

1

cup green grape, seedless and cut in half
1⁄4 inch ginger, peeled and chopped
In a blender, combine orange juice, mango, banana, grapes and gingerroot. Process as directed until smooth.
Options: ground flax seed, protein powder, psyllium seed are all excellent ingredients to add to your smoothie.