eabeler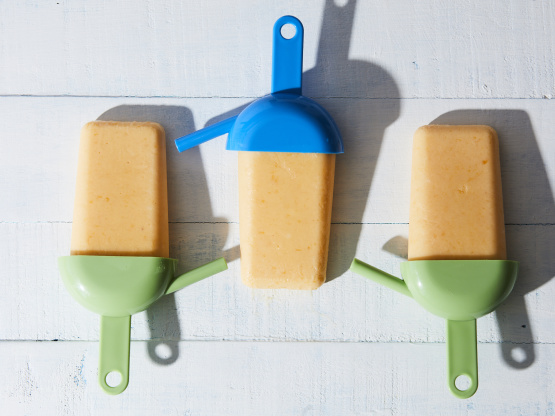 A wonderful way to get your mango lassi in a pop! Adapted from the cookbook Summer Bicknell of Locopops.

Excellent! We made this without the orange juice concentrate, and kept adding sugar until we reached 5 teaspoons. The sweetness of the pops was just right. Thanks for the awesome recipe and detailed instructions!
1

mango

59.14

ml orange juice concentrate (optonal)

354.88

ml plain yogurt (or use vanilla or other flavored yogurt like lemon)

9.85-14.78

ml sugar (to taste)
Peel mango and cut fruit away from pit. Discard pit. Puree mango flesh in food processor or blender with orange juice concentrate. In a bowl, stir yogurt until smooth and creamy (no lumps). Add sugar and pureed mango mixture and stir to blend thoroughly. Taste for sweetness. If it tastes perfect before freezing, add a pinch or two more sugar; flavors tend to diminish when frozen.
Pour into pop molds and freeze at least 8 hours. To extract, run hot water over bottom and sides of pop mold for 5 seconds. Repeat for 5 seconds if needed. Serve immediately.
Variations: Try fresh blueberries or strawberries instead. Generally, you need only ½ cup of fruit puree to 12 ounces yogurt. Just remember to taste for sweetness, as fruits vary. Makes 6 (6-ounce) pops.