We like to cook Indian food at our home for special occasions. My 14-year-old loves to make Mango Lassi's for our guests to drink as they arrive. We purchase 1 lb 14 oz cans of Mango pulp from a local Middle Eastern grocer. I put the can in the refrigerator prior to making these so all the ingredients are cold. The owner of the grocery store told me that children in India like to dip bread in the Mango pulp to enjoy as a treat. Expand on that and try dipping sugar or ginger cookies. Unsure yield.
Directions
Add all the ingredients to a blender and whirl until incorporated.
Serve immediately.
Reviews
Most Helpful
Although I like to think I followed the recipe on down, instead of regular ice cubes, I used mango nectar that I'd frozen in an ice cube tray & I thought that worked great! At least it probably intensified the mango flavor, & that was fine with us! Definitely a winning lassi! Thanks for sharing the recipe! [Made & reviewed in I Recommend recipe tag]
Cool and refreshing, I just love this recipe. I believe its Madhur Jaffrey's from World Vegetarian, or if not then the closest I could find to it (which uses 20 ice cubes- otherwise is identical). I got on a kick making these last summer, and am ready to break out the blender again. =) Thanks for posting, charlie #5!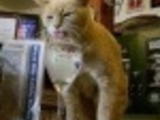 Great taste and quick and easy to put together. We love the flavor of cardamom, I've never tried it in a beverage before, but it really worked nicely.