Ambervim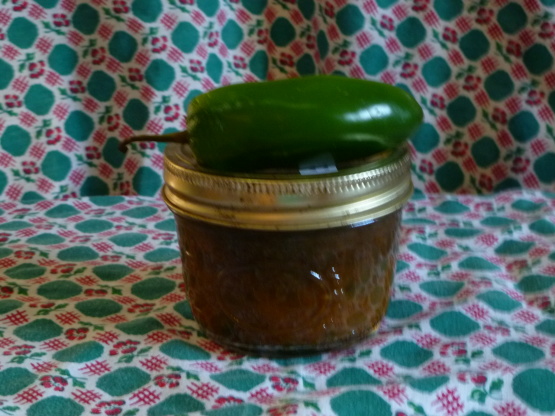 The jalapeno gives a bit of kick to your morning routine. Or it gives you a spicy touch when using it with meat.
7

ounces jalapeno chile, chopped (with or without seeds, you choose the heat)

6

cups mangoes, ripe peeled and diced
3⁄4 cup lemon juice
1 3⁄4 ounces pectin (powdered for lower sugar recipes)

4

cups sugar
place chiles, manoes and lemon juice in a pot.
Combine pectin with 1/4 cup sugar in a small bowl. Add to fruit.
Bring to a full boil, one that cannot be stirred down, stirring occasionally.
Add the rest of the sugar and return to boil for one more minute.
Remove from heat. Remove any foam.
Ladle into hot prepared jars, leaving 1/4 inch at the top. Wipe and process in hot water bath using good canning procedures.