3 Reviews
Really looked forward to trying this recipe, it smelled wonderful once it had cooled. But everyone at the party commented that it tasted like a overly sweet squash pie. I enjoyed finding a different use for wonderful mangos, but I don't think tart brought out its best flavor. Appreciate you posting the recipe though!
It tastes like egg pie. If I hadn't put in the 3/4 C mango puree I wouldn't know it was there. It's a good base to start with, but it needs some work to be a mango tart. Next time I'll try adding 1 1/2 C mango puree and remove an egg yolk.
If you love mangos and custard, you will love this recipe. I actually goofed and put all the ingredients (yes, eggs and all) into the pot at one time. I kept going, whisking away until the sugar was melted and it was just warm. The mango pureed easily in the food processor and there was no need to strain this into the crust at all. I used a deep dish pie crust, but would recommend a shallower one as it didn't fill the pan. I had this recipe prepped and ready in 5 minutes! I popped it into the oven and in 35 minutes, I had a lovely pie just needing to be chilled. This is a great custard pie with a mild flavor. The light touch of Brandy in the mix and the topping of each slice with whipped cream truly adds to this dessert. Next time I will add shredded coconut for a mango coconut custard pie. Yum!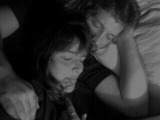 Mango Custard Tart