Mango Creamy Cheese Charlotte
fawn512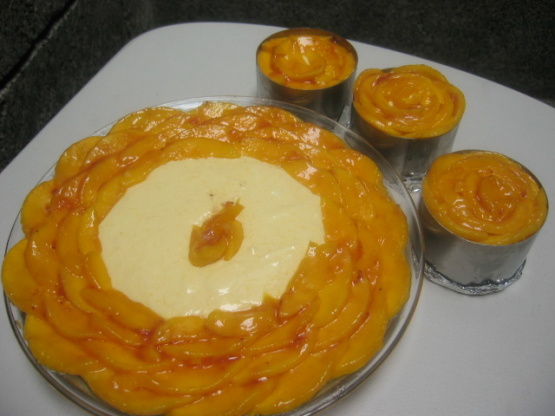 Creamy pretty presentation! You don't have to limit yourself just to Grand Marnier. Try Coconut rum, Chambord, A melon liquor the choices are endless. Or you can just use the nectar to brush on the lady fingers!

Wow! this was great. I changed it a little bit - brushed ladyfingers with mango nector not grand marnier and I whipped the other cup of whipping cream with a little sugar and mango nector and spread that on top the next morning after it had set. Also didn't present with the ribbon or raspberry sauce. This was enjoyed by all at my end of year luncheon at school! Very delicious. thanks for the post. ZWT 3
Arrange enough ladyfingers over bottom of 8-inch-diameter springform pan with 2-3/4-inch-high sides to cover completely, trimming as necessary.
Halve remaining ladyfingers crosswise and stand around sides of pan, edges touching and rounded sides out.
Brush with Grand Marnier.
Whip cream till stiff.
Put the mango nectar into a small heat-proof bowl and sprinkle the gelatin over it.
Set aside for 5 minutes.
Whip cream cheese with sugar in food processor.
Add the 2 packages of defrosted mangoes Or 4 fresh mangoes peeled and diced pulse till pureed.
Heat in microwave oven nectar 20 seconds then add to mango cheese mixture,pulse.
Quickly pulse in whipped cream with the mango cheese mixture.
Spoon mango mixture into pan.
Cover with plastic; chill until set, at least 5 hours.
Remove springform and tie cake with a pretty peach colored ribbon.
Serve with Raspberry Sauce!