Mango Colada Rice Pudding
Rita1652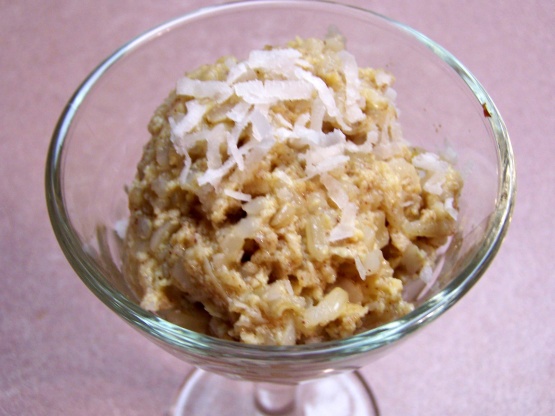 A tropical version of traditional rice pudding. For an elegant version, see note at the bottom of recipe. Created for RSC 2006. (You can also sub 1 cup of leftover rice for the first two ingredients)

This was a yummy treat at the end of our carribean meal! I actually made two batches because my mom eats fat-free and I was able to alter this for her. Of course, I thought the version made as directed was better but the fat-free version (made with skim milk, EggBeaters instead of eggs and 1-1/2 t. coconut extract in place of the coconut) was good too. My mom ate her left-overs for breakfast the next morning!
For rice: heat water and rice to boiling in a saucepan. Reduce heat to low, cover and let simmer for 10-15 minutes or until water is completely absorbed.
For mango puree: combine ingredients and blend in blender or with a stick blender until smooth.
For pudding:.
Beat eggs in a greased 1 1/2 quart casserole. Stir in remaining ingredients and mix well. Fold in mango puree.
Bake uncovered for 45 minutes, stirring every 15 minutes. Remove from oven (it will not seem done) and let rest for 15 minutes. Serve warm or refrigerate for 3 hours or overnight to serve cold. Garnish with coconut before serving.
**for an elegant presentation: triple mango puree but do not add it to the pudding. Bake pudding as directed adding 1/2 cup additional milk. Cool completely. Then layer pudding and mango puree into a tall wine glass. Serve chilled and garnish with coconut.