Mango Chutney Cheese Ball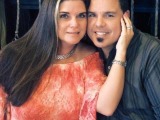 Simple recipe to make and very tasty too!
Directions
In a medium bowl, stir together the cream cheese, raisins, bacon, green onions and sour cream.
Form into a ball, and wrap in plastic wrap. Refrigerate for at least 3 hours or overnight before serving.
To serve, place the cheese ball on a serving tray, and pour the mango chutney over it. Surround with crackers for dipping.
**Cook time does not include refrigeration time.
Most Helpful
This was delicious. I only had a small amount of raisins so topped up to 1 cup with sultanas which I actually preferred. I used a homemade mango chutney given to me recently by a friend. Served with a variety of crackers.