Ambervim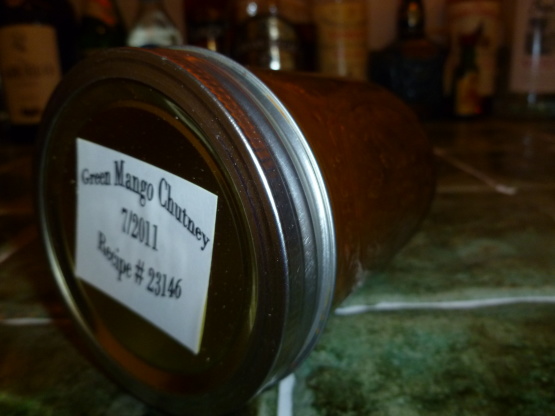 A recipe given to me by a friend many years ago. I used to make it as a condiment for curries, but now prefer it with meat loaf, cold meats or on sandwiches.

I just wanted to note that some of us are not metricly inclined! (Ha-ha) Here in Hawaii we use just standard good ole American measurements. So for the mangos its is roughly 2 1/2 lbs. and for the vinegar its roughly 2 1/2 cups. Took some mental home work for this 45 year old to figure this out. FYI
Peel the mangoes and cut into small pieces, set aside.
Place the sugar and all but 20ml of the vinegar in a pan and simmer for 10 minutes.
Place the ginger, garlic and remaining vinegar in a food processor or blender and work to a paste.
Add to the pan and cook for 10 minutes, stirring.
Add the mango and remaining ingredients, and cook uncovered for 25 minutes, stirring as the chutney thickens.
Watch it carefully, as it can catch at this stage!
Pour into sterilized jars, seal with cellophane covers and label.
The chutney will keep for several months, but it doesn't last that long in our house.