An_Net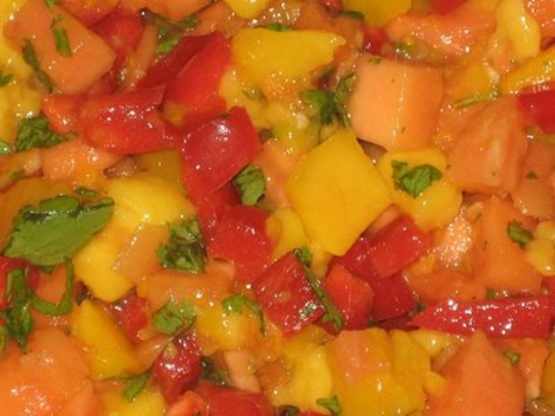 This salsa recipe is great with barbecued fish, seafood or chicken. I often use it as an accompaniment with Cajun spiced seared tuna or chili dusted prawns, and it also makes a great condiment with deep-fried oysters. Preparation time includes standing time in the fridge.
Great tasting salsa! I used the red bell pepper (capsicum) & a piece of a red chile pepper (more than enough heat for my tongue!), & everything went together in less than 15 minutes! Wonderful combo of flavors in this salsa! Thanks for sharing the recipe! [Made & reviewed for one of my adoptees in this Spring's Pick-A-Chef]
In a bowl, combine all ingredients except the coriander leaves. Season well and chill in the refrigerator for at least 30 minutes.
Add the coriander leaves just before serving.