Mami J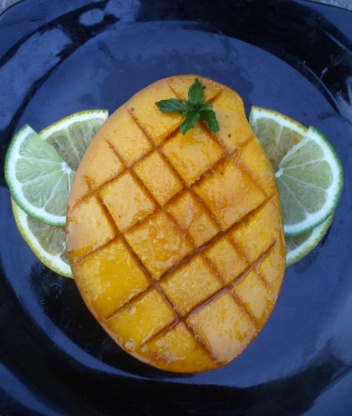 Eating Well newsletter, April 2007. A nice finish to a summer meal or a delicious breakfast! You can use pineapples, grapefruit, papaya, or even melon slices.

Mmm... warm mango! It's different and tastes beautiful! Thanks!... Just realized it has almost the consistency and flavor of peach cobbler, sans cobbler :D
Preheat broiler.
Place one mango on a cutting board with the narrow side facing you.
With a sharp knife, slice off one side, sliding the knife along the flat seed.
Repeat on the other side of the mango.
With a paring knife, make crisscross cuts through the flesh, cutting up to but not through the skin.
Repeat with the second mango.
Sprinkle 1 teaspoon brown sugar over each mango half, then drizzle each one with 1 teaspoon rum (or orange juice).
Set mango halves on a broiler pan or baking sheet.
Broil until tops are light golden, 5 to 7 minutes.
Serve with lime wedges.