Mango Bread the Panama Way
Annacia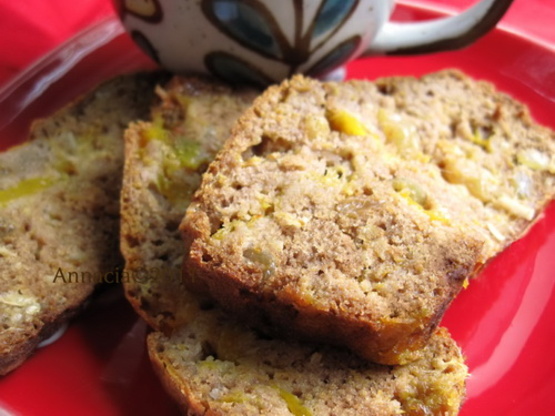 ***Disclaimer*** As stated I have not had the chance to make this bread yet. Annacia was kind enough to try it and found that 2 cups of mango is just too much and does not allow the batter to form properly and causes the bread to be much too moist. As such I am adjusting the amount of mango to be between 1 cup to 1 1/2 cups total (which is approximately one mango). Once I have time to prepare this myself I'll post a final quantity for the mango. We both feel that this reduction will present you with a beautiful and flavorful loaf of bread. ** (5/31) Posting for ZWT7 - Central/South American region. I have not tried this bread as of the date of posting but I fully intend on making it before ZWT starts. All the ingredients just sound perfect for a very tropical feel with a quick bread.

Oh my, I'm in a real quandary here as to stars. First let me say that the flavor is really phenomenal. I used 1 cup in total of Splenda and had to skip the nuts because I couldn't get them here. The rest was by the book. While I would make this again in a heartbeat I would use just 1 cup of the fresh mango. I baked the loaf for 1 hr 10 mins and the toothpick came out clean as a whistle but the abundance of juicy mango made a very wet bread. It's so wet that I'm afraid that what isn't used by tonight will be lost because by tomorrow it will soggy. My mango's were just at the peek of ripeness and very juicy...perhaps a slightly less ripe stage might be better in this recipe? I not sure about that and the ripe fruit is so delicious that I'd rather use less of it and keep the flavor. Made for ZWT 7.
Sift flour, baking soda, salt, cinnamon and sugar in a large bowl.
Make a well in center of dry ingredients and then add the eggs, oil, and vanilla and blend well.
Gently stir in the nuts, raisins, mango and coconut.
Pour into greased loaf pan and let stand 20 minutes.
Bake at 350 degrees for 1 hour to 1 hr and 15 minutes or until done (verifying with a toothpick test in the center).
Let stand 10 minutes before removing from pan and allowing to cool completely on a wire rack before serving/cutting.