Prep 20 mins
Cook 45 mins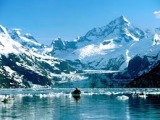 This is a really easy recipe for mango bread, from A Taste of Hawaii Cookbook. The toughest thing about this recipe is cutting up the mangoes. Great mango flavor! I love the crunch of the macadamia nuts and walnuts. Enjoy!
Directions
Preheat your oven to 350 degrees F.
Grease a 9 x 5 inch loaf pan.
In a mixing bowl, combine the flour, baking soda, cinnamon and salt. Form a well in the center of the mixture and add the sugar, eggs, macadamia nuts, walnuts and the oil. Add mango and slowly incorporate into the flour mixture.
Pour this mixture into the prepared loaf pan and bake for about 45 minutes, or until a knife inserted into the center comes out clean.
Let cool. Slice and eat!
Reviews
Most Helpful
Great recipe LIG, this bread is incredible. I can still smell it baking, the house smelled wonderful. Incredible flavors and textures. The cake has a nice crunchy outer crust and is soft and tender on the inside. The macadamia nuts are a perfect pairing with mangoes. I really enjoyed the way the cinnamon enhances the bread. Thanks so much for sharing this lovely recipe, that we will enjoy again and again. Made for CQ3 - Fruit Challenge - Bahamas
I used 2 fresh mangoes and this turned out great. My oven and I are still on a learning curve so there was a wet patch in the middle but this is not at all due to the recipe. I made a round loaf and enjoyed it with butter. This was a most enjoyable way to eat mangoes and such a change from my usual banana or carrot cakes.
Wonderful recipe! Flavorful, not too sweet, loved the macadamias and walnuts in this. I used applesauce in place of the oil with excellent results. I baked mine in 4 mini ceramic loaf pans for the 45 minutes specified. Great bread - thanks for sharing the recipe!