Mango Berry Coconut Crisp
chia2160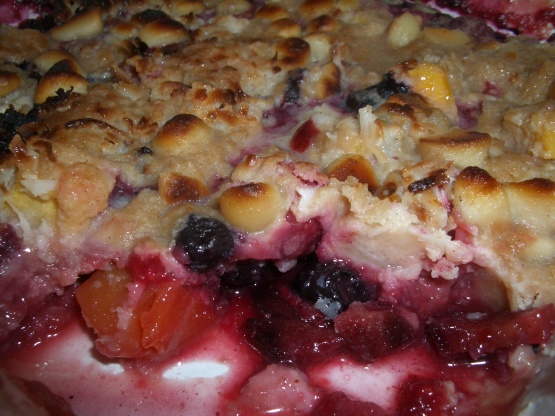 there's more, but I didn't think the title would fit, lol. I adapted this from a Bobby Flay recipe. This cooked up great, is full of fresh fruit, and is what summer bounty is all about!

Fantastic! I used frozen berries, and pre-sliced mangos to save time and money on fruit. I used brown sugar rather than turrbinado and slivered almonds rather than macadamia nuts. I was afraid that the berries would be runny but these set-up very well. Perfect summer dessert!
Preheat oven to 350°.
Cook rum, sugar and ginger in the microwave for 1 minute. lower to simmer and cook 3 minutes more.
Add mangoes and berries in a bowl, top with lemon juice and zest and stir.
Top with sugar rum mixture.
Spray the 9x9 baking dish with spray and add fruit, top with heated rum mixture and stir to combine.
Using a fork combine sugar,butter, cinnamon and flour, mixing well.
Top fruit with flour mixture.
Top with coconut and macadamias, bake for 45 minutes until done.