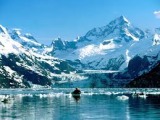 Take me back to the Caribbean! Ripe mangoes are important for that Caribbean flavor, buy them in advance and allow them to ripen. The mango flavor is balanced by banana, lime juice and dark rum. Yum! Credit goes to Ina Garten.
Directions
Place the mango, banana, lime juice, sugar syrup (see note) and rum in a blender and process until smooth.
Add 2 cups of ice and process again until smooth and thick.
Serve ice-cold in highball glasses with mango slices.
Note: To make sugar syrup, heat 1 cup sugar and 1 cup water in a small saucepan until the sugar dissolves. Chill.