Rita1652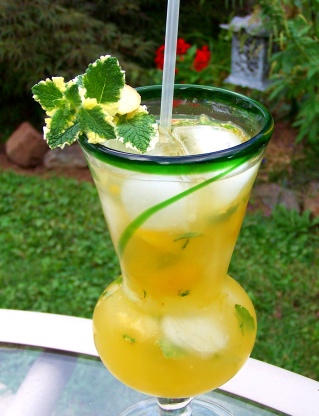 A mojito with mangoes. Lucky Floridians can find locally grown mangoes, maturing in June and July. Choose a mango with smooth skin with no holes or signs of bruising - yummy! In Miami, you can find the Mang-ito at Setai, a super-deluxe hotel in South Beach.

When I saw this I said to myself I have pear vodka! Who was I kidding that was all gone. So I went for mango rum. Rum is the ingredient for mojitos so I guess I stuck to it! I muddled in a large glass the mango and mint and sugar, (yet sugar an other main ingredient in mojitos). Sugar not fine or syrup is the way to make a real mojito helping in the muddling of the mint and lime. I loved the fresh grated ginger that I used not just juice. Also I`m lucky enough to have pineapple mint! This is a great find. Topped with lots of ice sugar free green tea pineapple juice and a splash of club soda. Thanks!
Muddle the mint and mango cubes in a mixing glass.
Add vodka and ginger juice, then shake.
Pour into a highball glass, and top with pineapple juice and sweetened ice tea.