Mandi's White Chicken Chili
Becky H.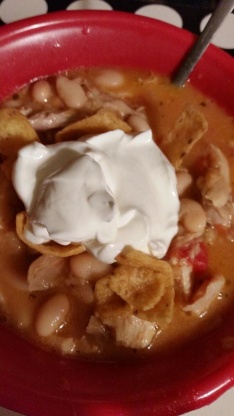 This chili recipe by Mandi Forester won Rachael Ray's March Menu Mania, a bracket-style contest in conjunction with USA Today for the best game-friendly party- food recipe. Posting for safe keeping.

This is so simple and so delicious!! Perfect for a "chili" day ;-) I grilled my chicken breast with a dusting of fajita seasoning for a little extra flavor. SO GOOD! Will definitely be making this again soon! Thank you for posting.
Place all ingredients except corn chips in a crockpot and cook on high until cheese is well incorporated.
Chili may also be cooked on stove top on medium-high heat.
When chili is ready, add finely crushed corn chips and simmer 10 minutes to thicken.
Garnish with more crushed corn chips, cheese or sour cream.