GaylaJ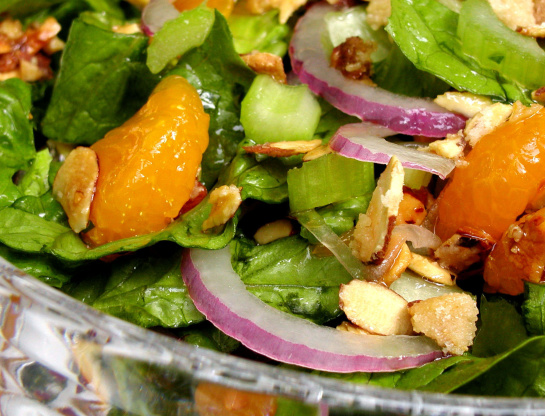 A slightly sweet dressing with the crunchiness of sugared almonds makes this an outstanding salad! Recipe is requested every time it is served. Found recipe in Woman's Day magazine in 1995.

Top Review by Kathy
It's sweet, it's crunchy, it's like no other salad I've had. Delicious! The red onion, almonds, and oranges make this such a pretty salad. Thanks!
Shake first 6 dressing ingredients in a jar and refrigerate.
Stir almonds and sugar in a small pan over medium heat until sugar melts and starts to caramelize and almonds are very lightly toasted.
Scrape into metal bowl and cool to room temperature.
Break up and store covered at room temperature.
Just before serving, put chopped lettuces in a large bowl.
Add celery, oranges, onions and almonds.
Shake dressing well and pour over salad.
Toss to mix and coat.