Mandarin Orange Salad With Sugared Pecans
diner524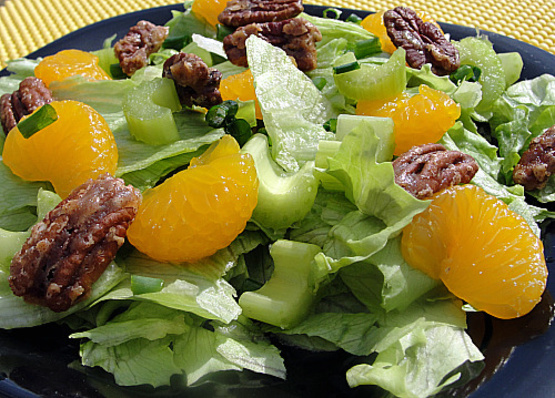 There are many versions of this salad out there but I couldn't find one exactly like mine here on 'Zaar so I thought I'd throw mine in the mix.

I loved this salad for lunch. It's not as sweet as the typical mandarin orange salad, but was wonderful non the less. I would suggest doubling the pecans because everyone loves them. They are not too sweet and not too spicy. I The oven time dries and toasts the nuts perfectly giving the salad a nice crunch of flavor.
For sugared pecans: combine sugar, margarine, orange juice, cinnamon and red pepper and cook to boiling. Boil for 1 minute. Add pecans and coat well. Bake on cookie sheet at 200 degrees for one hour stirring every 15 minutes. Cool completely and store in air-tight container.
For dressing: combine all ingredients and refrigerate for 1 hour.
For salad: combine ingredients, adding pecans and oranges last. Add dressing and gently toss.
Preparation time does not include cooking pecans.