Pam-I-Am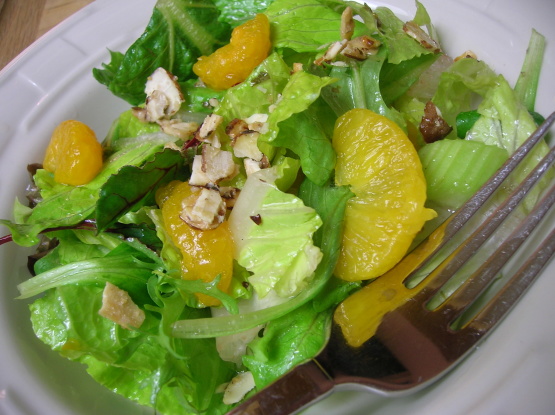 A nice light salad, that always gets many compliments when served.

I doubled the recipe, and thought the dressing was too abundant. I`m sure I will make this again, but will use half the amount of dressing, as once the lettuce wilts into it, the result is quite the soupy mess! Still a great recipe. I followed it exactly, something I rarely do! :)
Combine 1/4 cup white sugar, salt, pepper, vinegar and oil.
Heat until sugar dissolves.
Cool.
Meanwhile cook almonds and 6 tsp.
sugar over med-low heat in saucepan stirring constantly until sugar melts and almonds coated.
Cool and break apart.
Break apart lettuces into bite size pieces.
Add thinly sliced celery, cut on diagonal and thinly sliced green onions.
5 minutes before serving toss with drained mandarin oranges, sugared almonds and cooled dressing.
If desired can add a few pieces of chunked pineapple and top with a few crunchy chow mein noodles.