Prep 10 mins
Cook 30 mins

Yummy, fruity, moist cake that makes me think of spring! Great cake to take to a potluck. Sometimes I sprinkle coconut over the frosting for an added attraction!
Directions
Preheat oven to 325.
Beat eggs.
Add cake mix, oil and oranges, beat well.
Bake 9x13 greased pan 30-35 minutes.
Cool.
Mix together pineapple and pudding til absorbed.
Stir in cool whip and frost cake.
Refrigerate.
Most Helpful
This is a very refreshing cake and super easy to make. I didn't have any vanilla pudding on hand so used fat free/instant cheesecake pudding instead and it turned out great!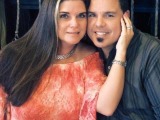 A simple recipe that's easy to make and makes a great presentation. Be prepared with copies of the recipe, because everyone will ask for it!
Made this for one of the birthday cake desserts on the September long weekend, it was a real winner. Used a yellow Duncan Hines cake mix, a four serving size vanilla pudding and a container of Cool Whip - the size that is available here in Canada - must be the right size as it worked for me. Even those who rarely eat dessert had seconds! Made as posted and wouldn't change a thing Thank you Laurie it is one I'll be making again - and again.