Mandarin Chicken Salad with Orange Juice Dressing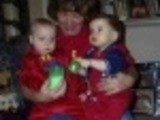 I have had this recipe for many years, and do not remember where I originally got it. The dressing really sets the salad off, adding a wonderful sweet and sour tang to the salad. This salad makes an attactive, colorful place setting. Pleasing to the eye and palate. Preparation time does not include cooking the chicken.
Directions
Mix the first 6 ingredients together.
Chill.
Mix the dressing ingredients together and chill.
Serve on lettuce leaves.
Decorate with fruit around the edges.
Spoon salad dressing over the salad mixture when served.