This is a wonderful salad to serve for a luncheon get-together...and quite easy to make. Your company will be so impressed with this delicious salad. The dressing can be made a day ahead, and also can be doubled, for more dressing
Directions
In a skillet, combine chicken, water, vinegar, brown sugar, 1 tbsp oil, soy sauce and bouillon.
Cook, and stir over medium heat for 15-20 minutes, or until chicken is tender, and the liquid has evaporated.
Meanwhile, for the dressing, whisk mayonnaise, honey, lemon juice, parsley, mustard powder, onion, and remaining oil until blended.
Arrange salad greens on a platter.
Top with mandarin oranges, chicken mixture and chow mein noodles.
Sprinkle with green onions and almonds.
Serve with dressing.
Reviews
Most Helpful
This was awesome!! I made it for our church ladies annual salad supper last night and it was the only salad completely cleaned out!!! I only had iceberg lettuce, but I think a darker lettuce would have been prettier. I tossed everything together and it did get a little soggy, but the flavour was still incredible. I also left out the onion flakes (didn't have any; and in the first batch of dressing, I used a bit of fresh chopped onion and it was WAY too oniony for my liking!) and processed the dressing in the blender. It was just wonderful. I could have eaten the whole bowl myself!!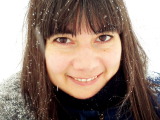 This is also a wonderful salad to serve for dinner on a humid day when the thermometer reads 35 degrees celcius! I kept the kitchen cool by thawing poached breasts (#36944) from my freezer, then followed your directions. Since there were no chow mein noodles in the market in our little town, I used bean sprouts - they worked just fine. The dressing was absolutely delicious. Thanx for another repeater Carol!