didyb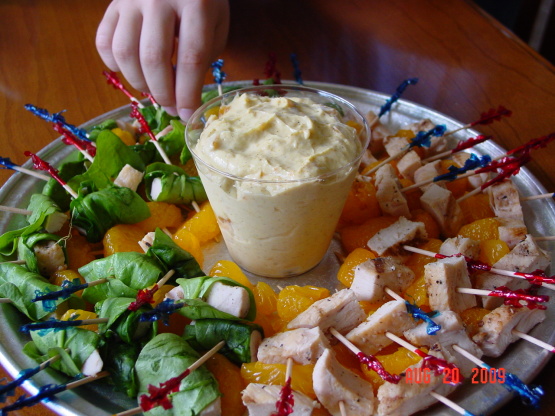 A very impressive cold appetizer. The color of the oranges and spinach really brighten up a buffet table. My guests loved this appetizer and devoured them all. Adapted slightly from a Creme de Colorado cookbook.
Top Review by Ilysse
Rather than doing this as an appetizer I made this into a tossed salad and served it for dinner. I really enjoyed this. The dip (dressing in this case) was very good and I used light mayo and sour cream. I didn't blanch the spinach but tossed it raw in a bowl and added arugula to the mix which was really good. I loved this as a salad and will make this again. Its a nice summer meal. Toasted almonds might be a nice addition to the salad as would lo mein noodles and serve with a good bread. I will be using this recipe as posted for my next cocktail party tho. Wonderful recipe, thanks so much for posting it.
Cut chicken into 1-inch cubes.
In a 10-inch skillet, combine chicken cubes, broth, soy sauce and Worcestershire.
Heat to boiling over medium heat; cover, reduce heat, and simmer until chicken is fork-tender (about 10-15 minutes).
With a slotted spoon, remove chicken from broth and let cool slightly.
Place spinach leaves in a colander.
Pour boiling water over leaves.
Drain and set aside to cool.
Place a cube of chicken at stem end of a spinach leaf and wrap leaf around chicken so that chicken still shows on sides.
Secure end of leaf with a wooden pick.
Refrigerate at least 1 hour.
(Recipe can be prepared up to this point one day ahead.) To serve, place one mandarin orange at the end of each wooden pick.
Serve with Curry Mayonnaise Dip (recipe follows).
Curry Mayonnaise Dip: Blend all ingredients and refrigerate to allow flavors to mature.