Manchurian Shrimp (Garlic Flavored Shrimp)
Chef RH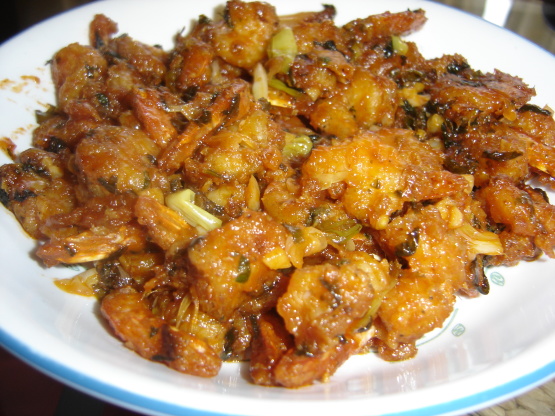 I haven't tried this one... I am posting it in response to someone looking for Manchurian Shrimp. I found it on thali.com.

Delightful! This was such a flavorful recipe - raves from the boyfriend. I didn't really end up deep frying the shrimp - I just sauteed it in the cornstarch/ginger/etc mixture to reduce fat. Delicious!
Wash, peel and devein shrimp (leaving tail on gives more flavor).
Place in large bowl.
Mix in corn starch, ginger paste, garlic paste, pepper, salt, coriander and egg.
Heat oil.
Deep fry shrimp to golden brown.
Spread out on paper towels to drain oil.
Sauce.
Heat wok on high heat and add oil Saute chopped garlic, coriander, scallions and chilies for about two minutes.
Add tomato paste, sugar, vinegar, soy sauce, salt, pepper.
Bring to boil.
Toss the fried shrimp in the sauce.
Remove from heat and serve.