Manchego-Stuffed Dates Wrapped in Bacon (Tapas)
KateL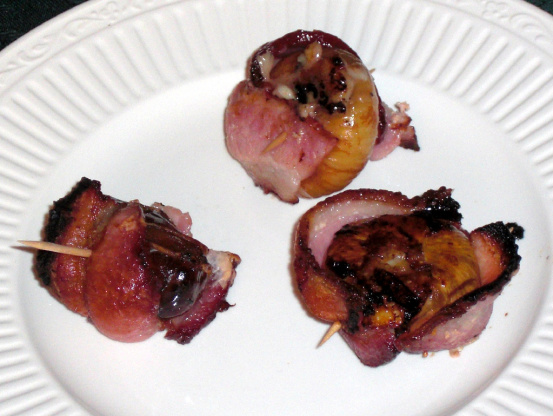 These are delightful, easy appetizers. Adapted from a recipe I found on www.wholefoodsmarket.com. As the recipe states, these are the perfect party starter served up with a glass of sparkling wine. These are also on the menu at a St. Louis tapas restaurant as a desert. . .interesting thought! These are very rich, so plan on 2 per person. One more note, these CAN be made without bacon if need be for a special diet.
Preheat broiler (high setting).
Cut your cheese into small rectangles just large enough to fill the cavity of your pitted date.
Stuff 1 piece of cheese into each date.
Wrap each date with a piece of bacon.
Place on baking sheet, seam side down, and broil for 4 minutes. Turn dates over and broil another 4 minutes.
Serve hot.
NOTE: you can put a toothpick in each AFTER cooking for the convenience of your guests (but they won't look as pretty).